Main content starts here, tab to start navigating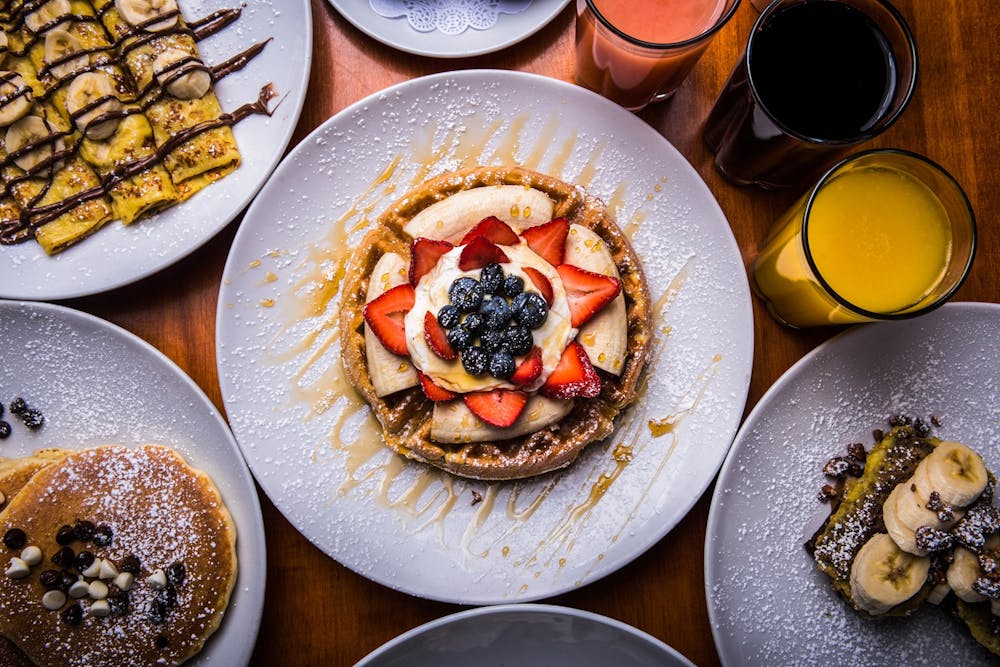 Omelets or Scramblers
Choice of Omelet or Scrambler. Made with grade AA farm fresh eggs. Pick your side with choice of toast or pancakes
Egg White Delight

Scrambled egg whites cooked with garden fresh spinach, mushrooms, roasted red peppers and low-fat mozzarella cheese

Rocky Mountain High

A classic made with diced off the bone ham, fresh green peppers, onion and cheddar cheese

The Mediterranean

A feast of fresh spinach, garden tomato, imported Kalamata olives and authentic Greek feta cheese
Build Your Own Scrambler or Omelet
Made with grade AA farm fresh eggs. Pick your side & choice of toast or pancakes
Pick Your Favorite Toppings
Hardwood Smoked Bacon | Sausage | Ham | Chorizo | Turkey Sausage | Cheddar | Swiss | American | Feta | Queso Fresco | Low Fat Mozz | Green Peppers | Onions | Broccoli | Roasted Red Pepper | Jalapenos | Mushrooms | Spinach | Tomatoes | Scallions Chives | Olives | Avocado
Breakfast Sandwiches
The Broadway

Scrambled eggs mixed with chives, cheddar cheese, caramelized onions and sriracha mayo in a warm brioche bun

Bacon, Egg & Cheese

Smoked bacon, over medium egg, cheddar cheese and sriracha mayo in a warm brioche bun

Ham, Egg & Cheese

Off the bone ham, over medium egg, cheddar cheese and sriracha mayo in a warm brioche bun
Tex Mex
The Ranchero Omelet

A festive mix of chorizo sausage, jalapeños, tomato and queso fresco cheese. Topped with house made salsa and drizzled with cilantro lime sour cream. Pick your side and a choice of toast or pancakes

Breakfast Burrito

Scrambled eggs, chorizo, jalapeños, onions, avocado, queso fresco and black beans. Wrapped in a large flour tortilla topped with salsa and cilantro lime sour cream

Breakfast Tacos

Eggs scrambled with chorizo, jalapeños and onions stuffed in three corn tortillas. Topped with green salsa and cilantro lime sour cream.

Breakfast Chilaquiles

Homemade corn tortilla chips cooked with green salsa and topped with queso fresco cheese, cilantro lime sour cream and two eggs any style
Sides
Proteins

Smoked Bacon

Ham off The Bone

Corn Beef Hash

Sausage Links

Turkey Sausage

Fruits & Dairy

Fruit Bowl (Melons, Berries & Bananas)

Cup Of Berries (Strawberry & Blueberry)

Side Strawberry or Blueberry

Side Plain Greek Yogurt

Bread & Veggie

Toast ( White, Rye, 9 Grain, Greek, English Muffin)

Bagels w/Cream Cheese

Avocado

Black Beans

Sliced Tomatoes

French Fries or Sweet Potato Fries

Homestyle Diced Red Potatoes

Gourmet Potatoes (With green pepper, onions and cheddar)

House Salad (Crisp romaine with tomato, red onion, cucumber and bacon bits)
Pick Your Side Options
Homestyle Red Potatoes | Gourmet Red Potatoes | Fruit | House Salad | Black Beans | Sliced Tomatoes | French Fries | Sweet Potato Fries | Bowl of Soup | Mixed Berries (Strawberries & Blueberries)
Egg Meals
Served with two Grade AA farm fresh eggs, hash browns and your choice of toast or pancakes.
Two Eggs Any Style

Add your Choice of Meat Hardwood Smoked Bacon | Sausage | Turkey Sausage | Ham off the Bone

Corned Beef Hash & Eggs

Two eggs any style and our homemade corned beef hash.
Skillet
Layered diced red potatoes and our freshest ingredients. Topped with grade AA farm fresh eggs any style. Served with your choice of toast or pancakes
Tommy Boy Skillet

This hearty skillet is layered with hardwood smoked bacon ham off the bone, pork sausage and cheddar cheese

Corned Beef Skillet

Dive into this skillet featuring our house made corned beef and cheddar cheese

Chorizo Skillet

Festive mix of chorizo, onion, tomato, black beans, avocado and queso fresco. Drizzled with cilantro lime sour cream and sided with green salsa
Batter Box
Make Any Waffle or Pancake Gluten Free!
Nutella Banana Crepes

Melt-in-your-mouth crepes layered with hazelnut chocolate spread and fresh banana slices

Berry Greek Yogurt Waffle

Waffle topped with Greek yogurt surrounded with fresh banana, blueberries, strawberries and drizzled with locally sourced honey

Chicken and Waffle

Our Belgium waffle infused with bacon and topped with our handmade buttermilk fried chicken breast, drizzled with a jalapeno infused maple syrup
Buttermilk Pancakes | French Toast | Belgium Waffle | Crepes
Choose any of the above batter options and add your favorite toppings
Blueberries | Strawberries | Bananas | Chocolate Chips | Nutella
Benedict & More
Choice of Scrambler or Omelet Made with grade AA farm fresh eggs. First three Ingredients included. Pick your side & a choice of toast or pancakes
Classic Benedict

Grilled off the bone ham topped with poached eggs on a toasted English muffin. Drizzled with fresh hollandaise and a choice from pick your side

Avocado Toast

House made avocado spread lathered on toasted nine grain. Topped with one sunny up egg sprinkled with chives and a choice from pick your side

Lox Plate

Delicate slices of Nova Scotia lox with a fresh bagel plated with red onions, capers, scallions, cucumbers, olives and cream cheese
Oats & Greek Yogurt
Greek Yogurt Parfait

Authentic Greek yogurt topped with granola, locally sourced honey and fresh berries

Steel-Cut Oatmeal

Served with cinnamon and brown sugar

ADD YOUR FAVORITE TOPPINGS!

Blueberry

Strawberry

Banana

Granola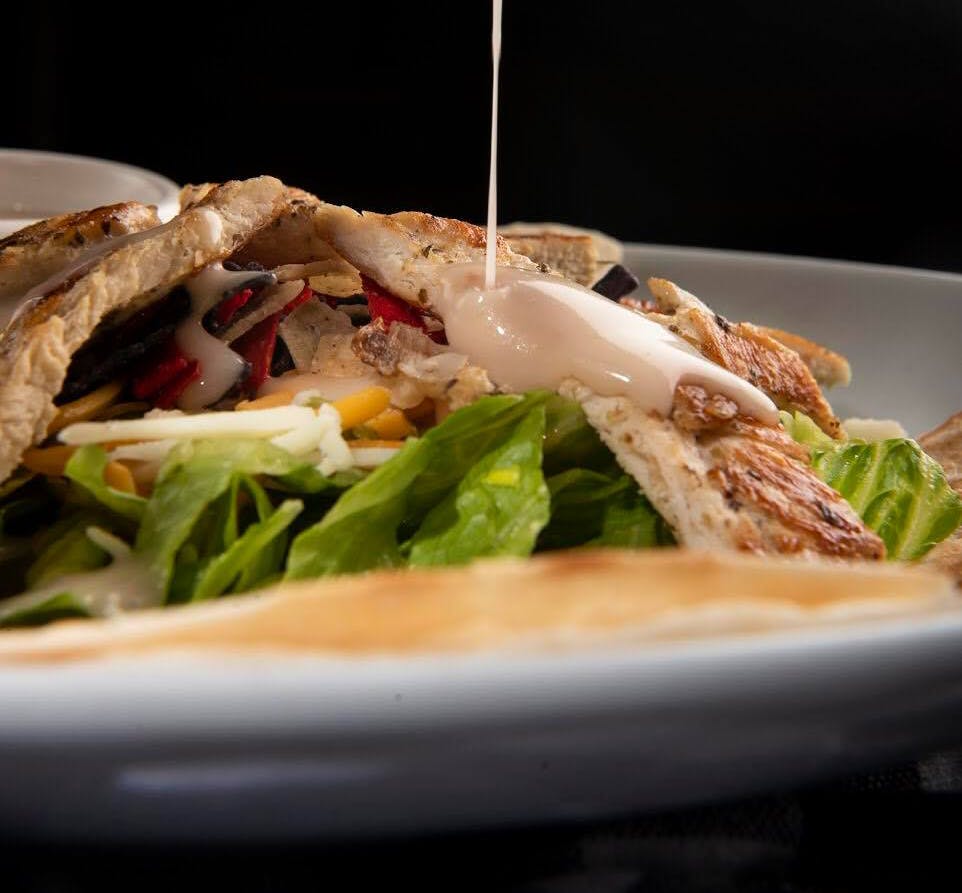 Burger Shop
Served with a warm brioche bun or upgrade to gluten free Garnished with lettuce, tomato and pickle with a choice from pick your side
Build Your Own Burger

BREAD CHOICE: Brioche Bun | Gluten Free Bun

CHOOSE YOUR PATTY: Angus Beef 8oz | Chicken Breast 8oz

ADD YOUR FAVORITE TOPPINGS

Cheddar Cheese | American Cheese | Feta Cheese | Blue Cheese | Swiss Cheese | Red Onions | Grilled Onions | Grilled Mushrooms Avocado | Hardwood Smoked Bacon Off the Bone Ham | Chorizo | Fried Egg

Eggsperience Cracked Egg Burger

Smoked Bacon topped with cheddar cheese and a fried egg
Tacos
Three corn tortilla tacos sided with black beans
Steak Tacos

Steak marinated and grilled with diced onion, queso fresco and topped with cilantro lime sour

Chicken Tacos

Tender marinated grilled chicken, onion, queso fresco and topped with cilantro lime sour cream

Chorizo Tacos

Succulent chorizo with queso fresco, avocado, onions and topped with cilantro lime sour cream
Piping Hot Soup
See Schedule in online ordering
Sides
Proteins

Smoked Bacon

Ham off The Bone

Corn Beef Hash

Sausage Links

Turkey Sausage

Fruits & Dairy

Fruit Bowl (Melons, Berries & Bananas)

Cup Of Berries (Strawberry & Blueberry)

Side Strawberry or Blueberry

Side Plain Greek Yogurt

Bread & Veggie

Toast ( White, Rye, 9 Grain, Greek, English Muffin)

Bagels w/Cream Cheese

Avocado

Black Beans

Sliced Tomatoes

French Fries or Sweet Potato Fries

Homestyle Diced Red Potatoes

Gourmet Potatoes (With green pepper, onions and cheddar)

House Salad (Crisp romaine with tomato, red onion, cucumber and bacon bits)
Pick Your Side Options
Homestyle Red Potatoes | Gourmet Red Potatoes | Fruit | House Salad | Black Beans | Sliced Tomatoes | French Fries | Sweet Potato Fries | Bowl of Soup | Mixed Berries (Strawberries & Blueberries)
Sandwiches
Garnished with lettuce, tomato and pickle. Accompanied with one selection from pick your side
California Avocado Chicken

Grilled chicken breast on a warm brioche bun. Topped with avocado, hardwood smoked bacon, Swiss cheese and sriracha mayo

Buffalo Chicken

Tender hand breaded chicken tenders tossed with buffalo sauce and drizzled with ranch dressing. Served on a warm brioche bun

Gourmet Chicken Salad

Gourmet chicken salad served on nine grain bread

Eggsperience Club House

Sliced smoked turkey, sliced ham, smoked bacon, lettuce, tomato and mayo on nine grain bread

Chicken Pesto

Grilled chicken breast layered with fresh spinach, tomato, mushrooms, Swiss cheese and drizzled with pesto sauce on a warm brioche bun
Salads
Grecian Salad

Fresh Romaine lettuce sliced red onion, tomato, cucumber, green pepper, imported kalamata olives, feta cheese, finished with house made greek vinaigrette.

Add Chicken For a Upcharge

Eggsperience Chopped Salad

Chicken breast tossed with crisp romaine lettuce, diced avocado, tomato, bacon, scallions, cucumber, and blue cheese. Topped with tortilla strips and served with Poppy seed dressing

Avocado Chicken Salad

Sliced char-grilled chicken breast, mango slices, avocado, tomatoes and red onions over crisp romaine. Served with lime vinaigrette

Chicken Caesar Salad

Crisp romaine, asiago cheese and croutons tossed with Caesar dressing. Topped with sliced char-grilled chicken breast
Build Your Own Egg Entrees
Fresh cage free scrambled eggs locally sourced.
Scrambled Eggs

Cage free, locally sourced. Add your choice of ingredients listed below.

Half pan $34.99

Full pan $54.99

Skillet

Pan layered with oven baked diced potatoes and topped with scrambled eggs with a choice of ingredients listed below.

Half pan $54.99

Full pan $84.99

Breakfast Wraps

Scrambled eggs rolled in a flour tortilla with your choice of ingredients listed below.

Half pan (5 wraps/10 halves) $44.99

Full pan (10 wraps/20 halves) $74.99

Add Your Favorite Ingredients

Hardwood Smoked Bacon | Sausage | Ham | Chorizo | Turkey Sausage | Cheddar | Swiss | American | Feta | Queso Fresco | Low Fat Mozz | Green Peppers | Onions | Broccoli | Roasted Red Pepper | Jalapenos | Mushrooms | Spinach | Tomatoes | Scallions Chives | Olives | Avocado

Each ingredient, add $4

Half pan serves 10-12 | Full pan serves 15-20
Beverages
Cups provided upon request
Box of Coffee

96 oz. Eggsperience Organic Roast Brand regular or decaf, completed with sugar, creamer, stirrers, and cups

Serves 10-12 people $19.99

Freshly Squeezed Orange or Grapefruit Juice

One gallon

$19.99

Freshly Squeezed Orange & Strawberry Juice

One gallon

$22.99

Freshly Brewed Iced Tea

One gallon

$12.99

Bottled Water

16 oz

Each $1.50
Pancakes Crepes-French Toast
Original Buttermilk Pancakes

Half pan (20 pancakes) $34.99

Full pan (40 pancakes) $54.99

Specialty Pancakes

Berry berry pancakes | Strawberry pancakes | Blueberry pancakes | Banana pancakes | Chocolate chip pancakes

Half pan (20 pancakes) $39.99

Full pan (40 pancakes) $64.99

Plain Crepes

Half pan (10 crepes) $34.99

Half pan (20 crepes) $54.99

Specialty Crepes

Strawberry crepes | Blueberry crepes | Nutella banana crepes

Half pan (10 crepes) $39.99

Half pan (20 crepes) $64.99

French Toast

Half pan (20 triangles) $34.99

Full pan (40 triangles) $54.99

Half pan serves 10-12 | Full pan serves 15-20
Add-Ons & Sides
Beakfast Meat

Off the bone ham | Sausage links | Bacon | Turkey sausage

Half pan $39.99

Homemade Corned Beef Hash

Half pan $49.99

Potatoes

Diced potatoes | French fries | Sweet Potato Fries

Half pan $29.99

Full pan $44.99

Gourmet Diced Potatoes

Layered with green peppers, cheese, and onions

Half pan $34.99

Full pan $49.99

Refreshing Fruit

Fresh melons and berries

Half pan $34.99

Full pan $54.99

Bagels

Plain bagel sliced and lightly toasted, includes plain cream cheese.

Half dozen $13.99

Full dozen $23.99

Half pan serves 10-12 | Full pan serves 15-20
Salads
Half pan 54.99 | Full pan 89.99
Avocado Chicken Salad

Sliced char-grilled chicken breast, mango slices, avocado, tomatoes and red onions over crisp romaine. Served with lime vinaigrette

Chicken Caesar Salad

Crisp romaine, asiago cheese and croutons tossed with Caesar dressing. Topped with sliced char-grilled chicken breast

The Eggsperience Chopped Salad

Chicken breast tossed with crisp romaine lettuce, diced avocado, tomato, bacon, scallions, cucumber, and blue cheese. Topped with tortilla strips and served with Poppy seed dressing

Greek Island Salad

A colorful salad of crisp romaine, kalamata olives, tomatoes, red onions, green peppers, cucumbers, and crumbled feta cheese. Topped with char-grilled chicken breast. Sided with Greek dressing.

Half pan serves 10-12 | Full pan serves 15-20
Breakfast in Hand
Breakfast Sandwich

Served on warm brioche bun. Scrambled eggs with choice of ham, bacon, or sausage and topped with cheddar cheese.

Half pan (5 sandwiches) $39.99

Full pan (10 sandwiches) $68.99
Sandwiches
Half pan: 54.99
5 sandwiches/10 halves + 5 bags of kettle chips + 5 pickle spears

Full pan: 89.99
10 sandwiches/20 halves + 10 bags of kettle chips + 10 pickle spears
California Avocado Chicken

Grilled chicken breast on a warm brioche bun. Topped with avocado, hardwood smoked bacon, Swiss cheese and sriracha mayo

Buffalo Chicken

Tender hand breaded chicken tenders tossed with buffalo sauce and drizzled with ranch dressing. Served on a warm brioche bun

Eggsperience Club House

Sliced smoked turkey, sliced ham, smoked bacon, lettuce, tomato and mayo on nine grain bread

Chicken Pesto

Grilled chicken breast layered with fresh spinach, tomato, mushrooms, Swiss cheese and drizzled with pesto sauce on a warm brioche bun

Gourmet Chicken Salad

No boring chicken and mayo salad here! We start with freshly cooked chunks of chicken, add cranberries, golden raisins, and roasted pecans and serve it on nine-grain bread

Half pan serves 10-12 | Full pan serves 15-20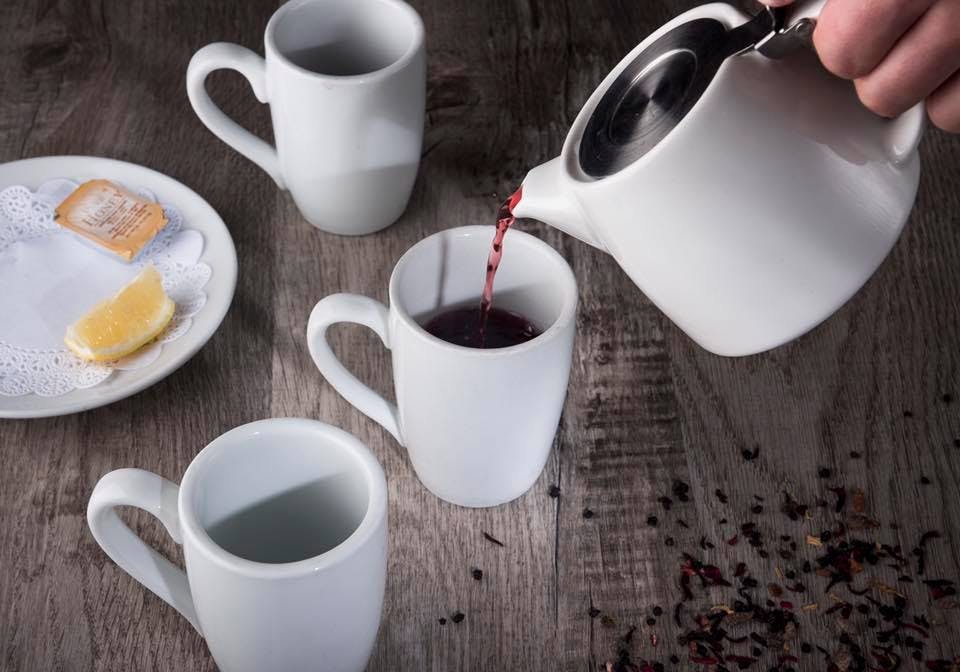 Refreshing Juices
Freshly Squeezed

All juices served in a 12oz cup

Orange Juice

Grapefruit Juice

Chilled Juices

Pomegranate

Mango

Apple Juice (Organic Unfiltered)

Tomato

Cranberry

Juice Combos

Strawberry & Orange

Cranberry & Orange

Mango & Orange

Pomegranate & Orange
Fruit Smoothies
Smoothies are made with real fruit and hand crafted with the freshest ingredients
Acai Fusion

Fat free frozen yogurt, freeze dried acai puree, strawberries, blueberry, banana and organic apple

Strawberry - Blueberry - Banana

Fat free frozen yogurt, choice of one fruit and organic unfiltered apple juice

Mango Tango

Fat free frozen yogurt, fresh mango, strawberries and mango juice

Banana Berry

Fat free frozen yogurt, fresh bananas, blueberries and organic apple juice

Pomegranate Blast

Fat free frozen yogurt, pomegranate juice, organic apple juice, fresh mango, and fresh strawberries
Espresso Cafe
Made with super crème espresso and high quality flavors
Espresso Shot

Cappuccino

Double shot, milk and heavy froth

Café Latte

Single shot, milk and light froth

Eggsperience Macchiato

Single shot, milk, vanilla, caramel and light froth

Vanilla Latte

Single shot, milk, vanilla, and light froth

Café Mocha

Single shot, milk, dark Ghirardelli and light

Café Americano

Triple shot espresso topped with hot water
CUSTOMIZE YOUR COFFE
Soy milk and almond milk available
Kick it up a notch with an extra shot espresso
Add a quality flavor shot with flavors listed below
Vanilla | Sugar Free Vanilla | Carmel | Cinnamon | Hazelnut
Loose Leaf Tea
Enjoy a variate of high-quality blends in its natural blossom. Served in a french press for maximum flavor extraction
Types of blends are listed in online ordering
Blended Frozen Frappe
A combination of crushed Ice, coffee and sweetness. Topped with whipped cream and your choice of milk
Regular | Vanilla | Mocha | White Mocha | Caramel
Milk Shakes
French vanilla ice cream made with the freshest ingredients
Vanilla | Chocolate | Banana | Strawberry
Beverages
Organic Coffee

Fountain Drink

Pepsi Products

Ghirardelli Hot Chocolate

Milk

Whole, 2%, Skim, Soy, Almond

Chocolate Milk